By
Andy Hazell
| October 19, 2021
Welcome to Sound Bytes – TAI's Quarterly Newsletter bringing you a summary of the latest news from across the TAI family. Summer vacations are over, and as we head toward the end of another interesting year, we hope that this issue finds everyone still healthy, happy, and motivated. If you are a Meatloaf fan, you'll know that "Two Out Of Three Ain't Bad."
---
Recent Hits
Partnership with MIB – TAI has joined forces with MIB to help solve one of our industry's biggest problems: jumbo treaty violations. Find out more in this article.


New Video – Get to know the advisory and administrative services available that help you analyze, identify, and fix areas of reinsurance operational risk in this video.


Webinars – View the recent Recapture Utility Webinar hosted by Jenn Torkelson by logging in to the TAI Help Desk and navigating to the Knowledge Base.


Blogs

IASA

(August 29 – September 1) – Just when Brian and Nicole were ready to leave their home offices for the IASA conference, the conference went virtual due to Hurricane Ida. Our thoughts and best wishes for a speedy recovery go out to everyone impacted by the hurricane.



---
Coming Soon
Webinars – Keep an eye out for invites to these upcoming webinars.
Conferences
ASSA (October 19–22) – Andy Hazell will be heading to South Africa (virtually) to attend the ASSA convention and connect with the actuarial community in the region. We are excited to be sponsoring a happy hour with a lesson on making sangria followed by salsa dancing.

SOA (October 25–29) – Brian Traxler will be attending the virtual SOA conference. If you are attending,

drop him an email

to set up time to connect.
Blogs – lookout for upcoming blogs this quarter on reinsurance operations process improvements and strategic resourcing.
---
Announcements
TAI 4.0 Release – Now available for clients scheduled to upgrade
TAI 4.0 is now available for clients ready for regularly scheduled upgrades. We are excited for users to experience the modernized design and new technology stack. For a refresher on the new system, re-watch the Introduction of the 4.0 Release session from User Group 2021 on the Help Desk. Highlights of TAI 4.0 include
API interface: For access outside of the application

Cloud-enabled: Easier to stay up to date and compliant
Improved security: New role-based security and authentication/authorization using the latest technology protocols

Elimination of COBOL dependency: Reducing installation time

Reporting in CSV and Excel: For easier downstream processes (expanded on below)
For any questions on the 4.0 release, please contact Nicole Karfakis.
---
Tech Corner
Each quarter, we bring you a few tips to help you get the most out of your TAI system. This quarter we're sharing the top three viewed articles from the Help Desk Knowledge Base:
---
Custom Projects
We are currently working on the following custom projects for the TAI community. If any of these are of interest to your business, please contact us via the TAI Help Desk.
Inactive client files –

P

roject to remove files from TAI that have had inactive client ID files for seven years or more

Treaty Risk Assessments –

Comprehensive, targeted treaty risk assessments to help clients identify treaty discrepancies, calculate the financial impact of these errors and prepare a plan to resolve these issues

IFRS17 Reporting –

Creation of a custom reporting feed for IFRS17 regulatory reporting
---
Competition Corner
Many of our User Group 2021 attendees voted for UG2022 to be staged in South Africa. With the nights closing in and the beginning of a chill in the air for us in the Northern Hemisphere, wouldn't it be great to visit this amazing country to enjoy the beautiful scenery, wildlife, people, and vineyards of South Africa? The big reds from SA are something special!
In celebration of this fantastic country, this quarter's competition is all about South Africa.
What's the largest city (by population)?


Cape Town




Durban




Johannesburg

Name this famous mountain


For a bonus point, which TAI crew member climbed all the way down (two hours) in his dress shoes?



Name this famous South African president.

Send your guesses to Nicole at
nicole.karfakis@taire.com
with the subject line: TAI Fan Club Trivia for your chance to win a e-gift card for a bottle of South African wine!
Answers to last month's questions: Chicago, to not shave his beard until return to office, Thanos
Congratulations to Mike from Northwestern Mutual for providing the closest guess!
---
Useful Links
Here are a few useful links to upcoming conferences, product launches, and articles of interest.
---
Meet TAI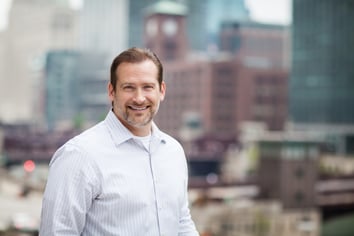 Bill Ruppenthal – Chief Technology Officer
Bill came up through the ranks at TAI, starting as a programmer in 2002. On November 11, 2021, he will be celebrating his 19th year with the company. 
Just over four months into his new role, Bill is eager to drive innovation at TAI. His focus is on the continuous improvement cycle in which software development, business analysis, project management, and quality assurance intersect to deliver TAI's industry-leading products and services. Bill values the strong partnerships that clients have built with TAI over the years and sees these playing a key role in TAI's future evolution. 
Like all good technologists, Bill's love of work keeps him busy. But when he's not working, he likes listening to music, and his favorite band is Matchbox Twenty. Bill and his wife are also avid runners, competing in at least one 5km or 10km race a month in the city or surrounding suburbs.
Unfortunately, COVID-19 has slowed Bill's race pace, relegating him and his wife to runs around their suburban neighborhood. Still, when they get tired of covering the same old ground, they can hop down to Florida to visit their daughter in St. Petersburg for a change of scenery.
While he is no stranger to TAI, we are excited to welcome Bill to the role of CTO!
---
Wisdom from Wilson

"Are we there yet?"
When we were younger, things seemed so far away – An hour's drive would prompt that question being asked at least four times. Traveling to another country? Those plane rides felt like they lasted days.
One surprise that has come from the pandemic? Everything comes within immediate reach:
Talking to someone in South Africa is a phone call/Zoom meeting away (once you navigate the time zones).

Experiencing another country's culture is easy via videos, streaming music, and local restaurants specializing in cultural foods.

Collaboration and camaraderie are possible with people across the world at any time. And yes – nothing beats talking to someone or seeing the sights of another country in person. But to be able to visit another country and engage with others from the comfort of your home or office? That's pretty amazing.
Of course, I don't live near a tropical beach, so I am really looking forward to traveling again one day – cranking up the heat and putting my feet in a sandbox is not quite the same experience!
---
Mic Drop
We hope you've enjoyed this quarter's Sound Bytes. Suggestions for future topics are always welcome.
Thanks for reading, and until our next issue, stay safe.
Brian, Andy, and Nicole