By
Brian Traxler
| March 31, 2021
Welcome to Sound Bytes—TAI's new Quarterly Newsletter bringing you a summary of the latest news from across the TAI family, now spanning eight countries. We hope you enjoy the inaugural edition packed with the inside scoop on what's happening behind the scenes at TAI. And to quote the band Chicago—"This is only the beginning."
---
Recent Hits
We are pleased to announce that Alfa® Life Insurance, based in Montgomery, Alabama, is the newest member of the TAI family. Implementation of their life reinsurance admin platform is scheduled to begin in July.
Also, starting at the beginning of this year, TIAA has entrusted their reinsurance administration to TAI Services. TIAA has been a long-time client of ours and we are excited to expand our relationship with them.
Blogs:

If you didn't get a chance to check out Brian's blog recapping 2020 and looking forward to 2021, here is the link:

TAI is All-In for Clients in 2021 (taire.com)
Webinars

- To watch any past webinars, please log into the

TAI Help Desk
Life Video

- We produced our first ever video showcasing the Life System. Check it out

here.
---
TAI's annual User Group is back, and the team is excited to connect with all of you. The virtual meeting will be held for a couple of hours each morning (CST) from May 10–14. Registration information will be sent out in early April.
We will be starting up our 2021 Webinar series on Tuesday, April 13 with Mindy Epstein showing how to do Ad Hoc Queries on the TAI system. Click here to register.
If you're a member of IASA and are participating in their Virtual Vendor Connect Tour, check out Nicole and Brian on the Reinsurance Systems & Services Tour Tuesday, May 4.
This quarter, look for blogs announcing our upcoming Treaty Digitization product launch and describing how our BPO services may benefit your organization.
---
Tech Corner
Each quarter, we bring you a few tips to help you get the most out of your TAI system.
Opening Two Tabs/Windows within TAI: Right-click on any hyperlink to open a new tab or window. This quick cheat saves you from switching back and forth between screens in the same tab.

Viewing Calculations (View Trace): When reinsurance calculations are performed online, the details for the latest calculation are stored, by user ID, and can be displayed, allowing a user to see, step by step, how NARs, premiums, and allowances were calculated. The View Trace Hyperlink is found on the Reinsurance Record Screen.

If the Audit window is blank, you can run the audit function under the Cession Maint > Financial Change > Audit.
---
In the Studio
We are currently working on the following custom projects for our TAI family. If any of these are of interest to your business, please contact us via the TAI Help Desk.
IFRS17 Reporting Feeds – Creation of custom reporting feeds for IFRS17 regulatory reporting.
Recapture, Replace or Retain – System modifications for recapture and business rules (while the base recapture application is in recent .NET versions, recapture and business rules vary enough to require additional modifications).
Business Process Optimization – Defining a target reinsurance administration operating model by identifying and eliminating inefficiencies, maximizing the use of TAI software, and defining process improvements that streamline operations and reflect the best in industry practices.
---
Fan Club
TAI now has clients in eight countries. Outside of the US and Canada, can you name the other regions TAI has expanded to? The first five people to guess the most correct answers will receive a Starbucks e-gift card. Here are a couple of hints:
Three countries are islands in the Atlantic/Caribbean regions.
Three countries are in the EMEA/APAC regions.
Send your guesses to Nicole Karfakis.
---
Meet the Band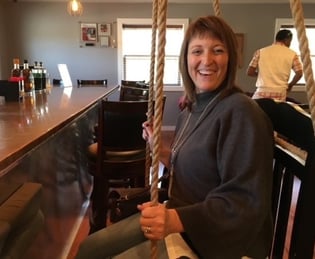 Wendy Wilmer, Senior Business Analyst
If you want to know Wendy's motto for living her life, you need look no further than her favorite pick-me-up musician, Pitbull, when he says, "have me a good time, before my time is up."
When she's not hard at work ensuring your TAI system is working to the best of its ability, you can find Wendy enjoying her time with her loved ones. Whether it be in the great outdoors or sitting on a swing at a local brewery, her favorite way to pass the time is to just simply hang out and have fun with her friends and family.
Wendy is very much looking forward to the day wine festivals come back and she can safely attend one with her friends... and, of course, she is very ready to see all of you in person again (hopefully at TAI's 2022 User Group).
---
Useful Links
LOMA - 2021 Life Insurance Conference
Canadian Reinsurance Conference (CRC) 2021
The 18th Conference on Bulk Annuities
---

Words of Wisdom from Wilson
Can you believe that it's been a year since we've all been under some sort of lockdown wave? For some of us, we picked up a second job as in-house IT Support, or remote learning teacher. We lived through the great toilet paper/baking flour/pasta/household cleaner/hand sanitizer/bicycle/hair trimmer tool supply shortages.
We've confirmed that we can still work and be successful away from an office setting and ensuring that we can still deliver results.
Here's hoping things get back to a new normal relatively soon and apply those learnings to our new work dynamic – fingers crossed that HR updates the Dress Code policy to allow sweatpants!
---
Mic Drop
Please drop us a quick note to let us know what you think. Any and all suggestions for future topics are welcome.
Thanks for reading, and until our next issue, stay safe.
Brian, Andy, and Nicole